Yoga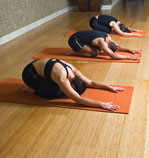 Jennifer  has completed trainings with Brian Kest, Rod Striker, and Yogafit. Her classes focus on stretching tight areas of the pelvic bowl, hip and back while strengthening the support muscles of the body. This proves effective for body tightness related to running, golfing, general aging, and repetitive motions related to working.
Jennifer teaches small, private yoga classes at her studio on Old Vine. On  Thursdays at 8:30 a.m., she teaches a pilates and yoga fusion class. If you would like to participate, please call-- she would love to hold a spot will  for you.
  Group Classes : Tuesday & Friday at 8 am: class is held at Cycle You on Midland ave.  At noon on Fridays, she teaches at McCarthy's on Upper Street. The classes are mixed level and many modifications are offered so you can be challenged or serene and the places in between!  Looking forward to seeing you!
I am grateful for the delightful spirit you bring to our studio! Thank you for all the hard work!  Jennifer

  | 400 Old Vine St | Lexington, Ky 40507 | 859.221.2461